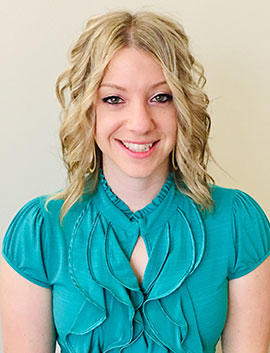 Together we will work to build a healthier relationship with food!
Jillian Mozitis is a Registered Dietitian with a passion for helping people change their lives by developing a healthy relationship with food and mood. Jillian believes in a non-diet approach with a goal of eating intuitively, nourishing the body, and optimizing nutritional health. The core of Jillian's approach is rooted in mindful and intuitive eating interventions and body positivity. She understands the need for individualized nutritional care and firmly supports following a path that best fits your body's unique needs to promote realistic, long-lasting change.
Eating Disorder Nutrition Therapy
Revive Wellness specializes in eating disorder recovery. Eating disorder nutrition therapy works to challenge the health interfering behaviors, challenge irrational belief about food and the body, stabilize weight and restore health.
Jillian Mozitis has worked as a registered dietitian since 2014 with patients of all ages in hospital, partial hospitalizations, and intensive outpatient settings. This type of professional experience allows for an understanding of recovery needs across the care continuum that informs recommendations to keep her clients safe and successful in the outpatient setting.
Therapeutic Nutrition Services Include:
Dining Out
Food Shopping
Meal Planning
Meal Preparation In Our Full-Service Kitchen
Meal Support
Nutrition Education
Therapeutic Nutrition Services for Health Related Conditions
(but not limited to):
Cancer
Celiac Disease
Diabetes
Food Allergies
Gastrointestinal Issues
High Cholesterol
Hypertension
Irritable Bowl Syndrome
Obesity
Polycystic Ovarian Syndrome (PCOS)
Pre & Postnatal Needs
Nutrition Exposure Therapy
Nutrition exposure is designed to provide a safe and therapeutic environment in which clients can face their food related fears. This intervention is helpful when a person is using avoidance to manage the anxiety triggered by food related situations. Nutrition Exposure sessions work to increase a person's skillfulness and ability to tolerate anxiety. The ultimate goal is for clients to translate the learned skills into real life scenarios. Exposure therapy is an evidence based, cognitive-behavioral technique with proven results.
Types of Nutrition Exposure Sessions offered (but not limited to):
Accountability and meal support via virtual communication
Body image support and challenging
Clothes shopping
Cooking at the office in our full-service kitchen or coaching virtually while you cook at home
Dining out at restaurants
Grocery shopping
Meal prep and meal planning
Ordering takeout and dining in (virtually or in-person)
Pantry cleanout and pantry re-stock
Seasonal support, such as planning and preparing for holidays and special events
Meal Support Group
Join us and for meals and break the isolation that feeds the eating disorder.
Revive Wellness believes recovery happens in community. We understand that creating a healthy support system is a tall order, at all stages of the recovery process. This once-a-week Mealtime Support Group, facilitated by a trained Eating Disorder professional, allows a safe place for you to work on your relationship with food.
This group offers the opportunity to explore emotions that arise at mealtime, challenge recovery interfering thoughts and behaviors, connect with body cues, and increase tolerance to a variety of foods. Meal Support group is 60 minutes You are required to bring your own meal and adhere to the group guidelines for safety.