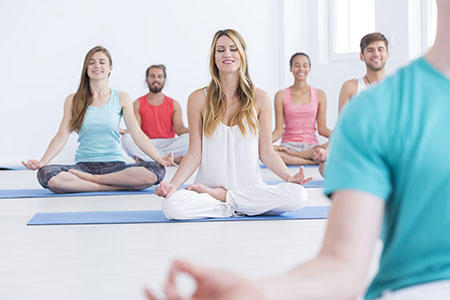 The practice of Meditation is a proven technique for stress reduction and relief from anxiety and depression. Our classes, workshops and private coaching sessions are designed to help you get started and support your on-going practice.
What is Meditation?
Meditation is a life-changing practice that significantly reduces stress and anxiety by allowing the mind and body to move into a relaxed state so that you feel happier and more peaceful in your life. Meditation is not about clearing your mind or stopping your thoughts, but rather learning to notice them without involvement or control. When one practices meditation, they learn to focus on the present moment rather than dwell on the unchangeable past or uncertain future, allowing you to let go of fear and worry. Our sessions are designed to help you gain selfawareness and become empowered to live your best life.
What is Guided Meditation?
To be guided in meditation means to be led by a teacher who is providing verbal cues and reminders to help build your focus and awareness. This guidance allows you to let go of the desire to control the experience and instead be fully present with it. Each session, your meditation coach will introduce tips and techniques that you can take with you and use to calm down and de-stress in everyday life.
Some Benefits of Meditation:
Reduce Stress
Relieve Anxiety
Fight Heart Disease
Lower Blood Pressure
Improve Chronic Pain
Help Depression
Improve Focus
Reduce Anger
Sleep Better
Helps with Addiction / Cravings
Improve Self Esteem
Help you Feel Calm & Less Reactive
Become Happier
Who Benefits from Practicing Meditation?
Jason Blau specializes in teaching the transformative practice of meditation to those suffering with stress, anxiety, depression, emotional and physical traumas, and/or transition in their lives. Jason provides coaching to individuals, couples and families and has had tremendous success working with young children, teens, adults and seniors.
Meditation Coaching Sessions
What to expect?
Meditation is an incredible practice that encourages deep healing of emotional wounds and past traumas. During this process you will begin to master your mindset and gain a strong understanding of how your thoughts, words and actions create your reality and experiences. Revive Wellness provides a safe space for you to explore who you really are.
1. Get started - Learn how to select a comfortable seat, how to properly position your body, and the basic principals of meditation.
2. Establish a routine for practice - Learn how to effectively incorporate meditation into your life and make it part of your daily routine for maximum benefits.
3. Learn basic breathing techniques - Learn how to "focus on your breath" in order to stay present in the moment and to help relieve stress and tension in your mind and body.
4. Develop focus and awareness - Learn how to choose an "object" for your meditation and how to stay focused upon it for an expanded length of time.
5. Refine and expand your practice - Learn how to apply the practice of meditation to your everyday life in order to become happier and more peaceful.
Meditation Classes
Classes (Weekly)
Check class schedule and book classes at: www.revivewellnesstherapy.com/classes
Pricing
Intro Offer: $30 (30 Days Unlimited Classes)
Single Class: $12
5 Pack Class Card: $55 ($11/Class)
10 Pack Class Card: $100 ($10/Class)
Click here to purchase: https://clients.mindbodyonline.com/classic/ws?studioid=998462&stype=41&sTG=22
Gift Cards Available: https://clients.mindbodyonline.com/classic/ws?studioid=998462&stype=42&sLoc=0&giftCardID=174